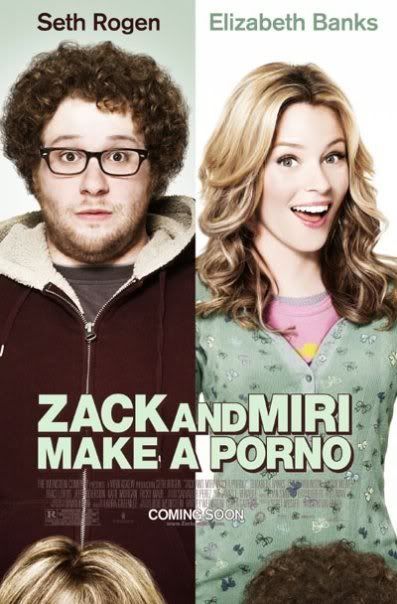 Kevin Smith is one of those directors that I'm so mindlessly faithful to he could put out a movie like Jersey Girl and I'd still pay to see it, and even kind of like it. While he's had trouble distancing himself from his roots in Jersey post-Jay and Silent Bob Strike Back, the summer vacation of a movie that was supposed to "tie off" the loose ends of the original series of preceding films (Clerks, MallRats, Chasing Amy and Dogma,) Jersey Girl rang a bit too sappy and sentimental for die-hard Smith fans and everyone else just plain hates Ben Affleck. So it was back to the watering hole for a final farewell to Red Bank with Clerks II (which underwent about 3 or 4 subtitles ranging from "Hardly Clerkin'" to "Passion of the Clerks.") This time, he's finally put these characters to rest, peacefully and respectfully with his new film Zack and Miri Make a Porno.
Zack and Miri puts Kevin back in the seat where he's best. Writing for twenty-somethings. His eloquence and predilection for ten dollar words combined with lewd humor and sex jokes have and always will be his strongest suit and it is back in full force with this outing. Now, Smith is no stranger to controversy. Having previously fended off GLAAD and the Christian Coalition (receiving actual death threats from the latter...) he had to take on the industry's own MPAA this time around. Now it is literally impossible to make a movie entitled "Zack and Miri Make a Porno" without a moderate amount of onscreen sex, whether there's any nudity to go with it or not and while there IS full frontal on both male and female (in a brief comedic context and never onscreen together at the same time) the MPAA saw fit to slap an NC-17 rating across the little film. This is what could be the cinematic equivalent of the Motaba virus and Smith was not about to stand for it. Luckily, through several cuts and pleading his case to the board, he was able to squeeze an R rating before release.
Prerelease drama aside, Zack and Miri is a thoroughly enjoyable film if not a bit uneven at times. A staple of Smith's writing is one or two extended monologues purveying the thematic weight of the piece. Jeff Anderson as Randal Graves did this in Clerks, Jeremy London's T.S. Quint was responsible in MallRats, Ben Affleck's Holden McNeil piggybacked by an opposing Joey Lauren Adams as Alyssa Jones followed in Chasing Amy and so on. Seth Rogen's Zack Brown pulls it off well in this outing, unfortunately it's at this point where the movie loses focus. Now, I'm all about emotional depth and building believable characters, but this should not come at the expense of the narrative story-arc. Without spoiling too much, if the title of the movie states that two people are setting out to do a particular thing, it's probably a good idea to ensure that A) they do just that and B) if said objective is not completed, give us a plausible explanation why. While it's definitely not my least favorite of Smith's filmography, it is far from the best. In truth, it almost seems like a less genuine younger brother to '96's Chasing Amy.
Casting-wise, the only returning Jersey Alums are Jeff Anderson (Randal Graves of Clerks fame) and Jason Mewes (actually NOT playing Jay) who do their thing passably, Mewes actually coming off slightly nerdier than his previous alter ego. Seth Rogen and Elizabeth Banks (having worked together on Judd Apatow's 40 Year-Old Virgin) have a chemistry that is both obviously awkward and sweetly endearing. Rogen, apt at playing the stocky blockhead since his debut in Judd's one-season series Freaks & Geeks is pretty much perfect for Smith's brash loudmouth character (he's always got at least one of them, except it's usually Jason Lee.) Though this time, the sensitive guy and the loudmouth are rolled into one person which added a strange sense of inner conflict that seemed like relatively new territory, though it was left mostly unexplored by the film's end. Elizabeth Banks' Miriam Linky is just plain adorable, as most of her characters are. The Office warehouse worker Craig Robinson steps in as Zack's coffee shop work-buddy (we get the idea they would be closer friends if he weren't married) and makes for some particularly funny exchanges. Porn-heir Tracy Lords also makes an appearance (after all, you can't make a movie about porn without a veteran, thankfully this time it wasn't Ron Jeremy) and shows some actual acting chops. However, the show stealer comes and goes within the first 20 minutes. Justin Long (Jeepers Creepers and last summer's Die Hard 4, possibly cast due to his on set friendship with Kevin) displays some character acting beyond compare in a Kevin Smith film as a west-coast gay porn actor with a ironic connection to Zack and Miri's graduating class. Complete with gravelly voice, slicked back hair and what just might have been some well placed ad libs, I was in stitches for the depressingly short duration of his presence on-screen.
While not quite as funny as some of the other comedies of '08 (more laughs per capita are present in Tropic Thunder and Pineapple Express) it's still well worth a trip to the theater now that we can all put gas in our cars without breaking the bank. And though it gets a little lost in the message, it is a message that we can all aspire to in one way or another. I'm interested to see where Kevin Smith goes from here, having recently announced a horror film (Red State) and a yet untitled sci-fi picture.