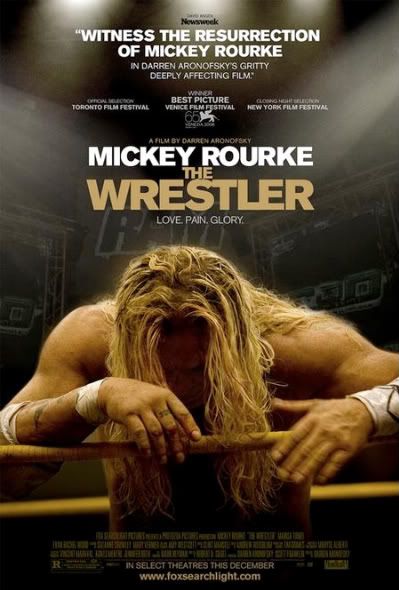 Though Darren Aronofsky's career hasn't been that of commercial successes, his short but powerful resume has mustered a hefty amount of critical acclaim. Beginning with the quirky math-thriller Pi and his painfully honest adaptation of Hubert Selby Jr's novel Requiem for a Dream. After a long and troubled production on his 3rd film, the fantasy parable The Fountain, which was ultimately panned by critics, Aronofsky stepped back to the small scale character drama The Wrestler featuring the comeback of former Hollywood heartthrob turned hulking behemoth, Mickey Rourke.
Adorned with flowing blond locks and about 35 extra pounds of muscle-mass, Rourke re-emerges on the big screen (small screen if you missed the theatrical release like me) as the washed up pro-wrestler Randy "The Ram" Robinson. We only get a glimpse of his former glory in the opening credits, awash with main event posters set to the various over-enthusiastic announcers and Quiet Riot's "Bang Your Head" (which also doubles as The Ram's entrance music in later scenes,) but any pro-wrestler that has his own action figure (sadly displayed on the dash of his beat up van) and Nintendo Game representation was a big deal in his glory days.
Aronofsky's work is no stranger to personal tragedy and "The Ram" is no exception. Immediately following the credits we're greeted with a "20 Years Later" title matched with a shot of Rourke sitting in a locker room with his back to us. And the sadness begins. The tale of Randy "The Ram" Robinson is that of a man who never created a coping mechanism for the real world, having spent the majority of his adult life in the pro-wrestling circuit (so we're led to believe) in front of the camera as an entertainer. In essense, he's a horse put out to pasture with no intention of dying on someone elses terms. Trying desperately to hang on to who he once was by partaking in small circuit matches and conventions on the weekends, a day job is seemingly out of the question. Though maintaining said lifestyle (heavy training, enhancement drugs, booze and strippers) without the benefit of the big WWE bucks presents a challange in and of itself. And then his heart gives out.
A large portion of the film (including the first 10 minutes of so before we even see Randy's face) is shot handheld, following behind the character. It wasn't until a key moment that I realized exactly what the purpose was. Having seen a handful of WWE shows on television, the camera will follow a given opponent through the green-rooms and back hallways on their way to a match. This aspect of Randy's former lifestyle was seamlessly applied to his everyday life, adding more weight to the tragic narrative that is The Ballad of Randy "The Ram" Robinson.
Of course all the "Resurrection of Mickey Rourke" talk is completely true. Since he re-emerged from his bare-knuckle boxing days looking less Rocky Balboa more Rocky Dennis, he's knocked out a few roles here and there (the most memorable being the oafish hard-luck Marv from Sin City, less so was his hard-ass mercenary from Domino) but nothing with the dramatic weight that he displays in The Wrestler. It's one thing to be able to spout one-liners and act thuggish, but it's another kind of talent to make an audience feel sympathy for someone who, at the end of the day, really deserves none. Marisa Tomei reins in a performance infinitely more deserving of the Oscar she claimed back in '93 (granted the competition was tighter this year) and Evan Rachel Wood pulls off some of the most heart-wrenching verbal fights I've seen onscreen in recent years (granted I haven't seen Revolutionary Road yet.) Stepping the realism up a few more notches are the actual indie-circuit wrestlers that make up "The Ram's" opponents throughout the story, some of the stunts (staples, barbed wire, hidden razors for impromptu bleeding in the ring) I am still not certain were "effects" or not.
After seeing this (and subsequently seeing it performed live not long ago,) I think it's an outright travesty that Bruce Springsteen's song of the same title as the film wasn't even nominated for an award by the Academy this year. I mean, I'm glad Slumdog Millionaire swept the way it did, but this song is nothing short of epic. And it's The Boss. I mean, come on.
Darren Aronofsky has proven himself to be not just a good filmmaker, but an exceptional one. In a way, I almost prefer that he maintains his footing on the edge of the mainstream industry, shepherding in new talent the likes of Rian Johnson (Brick and the upcoming Brothers Bloom) and Brad Anderson (The Machinist and Transiberian.) With four wildly diverse films under his belt, I'm eagerly anticipating whatever comes next in Mr. Aronofsky's expanding resume.