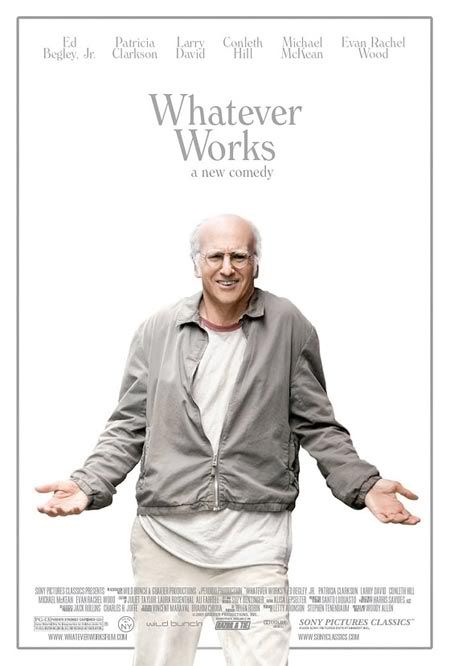 Woody Allen has been in the business so long, it seems he tried just about every genre. His latest venture, Whatever Works, is ultimately more of a throwback. Most likely since the script was penned back in the 70's. Aside from adjusting the socio-political references to be more modern and relevant the film works remarkably well.
Casting Larry David in the lead role as aging cynical genius, Boris Yelnikof is a veritable stroke of genius on Allen's part, and any fan of Curb Your Enthusiasm will agree. Utilizing an Annie Hall style 4th Wall Breaking Narration, David sets the tone for this sarcastic, delightfully misanthropic love story. Despite all his harsh criticisms on the state of human affairs in this day and age, that's what this movie ultimately is. A love story.
Following Boris' divorce and his failed (yet comedic) suicide attempt, he spends his days with a bum ankle, teaching chess to grade-school children (just as harshly as he'd teach adults, plus physical abuse to boot) and waxing intellectual with his diner buddies (including a criminally underused Michael McKean.) On the way home to his dingy NYC apartment he stumbles upon (or over, as it were) the homeless deep south runaway, Melodie St. Ann Celestine (played remarkably well by Evan Rachel Wood.) Surprisingly The two form a twisted sort of bond, but a bond nonetheless, before her bible-thumping parents (Patricia Clarkson and Ed Begley, Jr.) swoop in to rescue her, or so they think.
Despite the abrasively negative disposition of the protagonist, Whatever Works has a very light heart at its core. Allen's return to the states after a bout of films across the pond gives the material a lived in feel. He truly is at home here. Though, it's very apparent that he has much more to say than what is expressed by the end of the film. An unfortunate side effect is the limiting scope of Begley, Jr's performance. His character arc is almost a footnote to the development and growth his fledgling big city newcomers make. All things considered, Whatever Works is a no nonsense, nonsensical, ugly yet cute look at fictional love in the real world, as only Woody Allen can spell it out.